This year, I made two quilts for high school graduates.  Lauren, a long time family friend, is going from Glencoe HS to Oregon State.  Katie, our oldest niece, is going from North Medford HS to Southern Oregon.  Both girls have played soccer in high school and are really great people.  They do have different personalities though, which I wanted to reflect in the different quilts.
For Lauren, I chose to use a package of coordinating fat quarter pieces that I bought on Craftsy.  The modern, fresh colors reminded me of her, even though they're not her favorite color (purple).
After seeing the patterns from Sam Hunter at a quilt guild, I bought the "faster fourteen" one and put together the 14 fat quarters that I thought would look best. Here's Sam's version that she uses on the pattern's cover.
Sharon at Sharon's Quilt Attic quilted it for me.  She used a new long arm machine that is connected to a computer and we chose a design that reminded me of waves.  It was mesmerizing to watch the quilting happen automatically, evenly paced and quickly completed. She recommended a bright color thread so it's "less boring" and I do love how the orange pops and draws out the Oregon State colors for Lauren.
I finished sewing on the binding and mom finished the hand sewing to close the binding and finish the quilt. This top went together in just one day and I love the look of the final product, even though the fabric turned out to be a little busy. It's definitely a pattern I'll use again!
For Katie, I chose batik fabrics.  For her 16th birthday party, Katie had used squares of blue and purple batik fabric from Joann's for bandannas for the dueling teams of friends and family participating in her birthday "Olympics".  I asked people to give me their bandannas with the hope of making something for Katie someday.  Then last summer, I won some free yardage at the Quilter's Corner Store as part of the Row by Row Experience. Deb helped me pick out coordinating fabrics. I think it suits Katie's mature, calm, friendly nature to have a colorful quilt that doesn't look like the normal bright kid friendly colors I usually use, but rather something more for a young adult.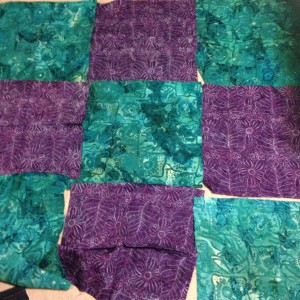 The pattern is Vice Versa from Karla Alexander.  She is a talented quilt designer and teacher based in Salem, Oregon.  I decided that I want to use this pattern to make a graduation quilt for each of Aaron's nieces & nephews, but change the fabric to fit their interests or favorite colors.  It'll be fun to figure out what to do for the others next in line!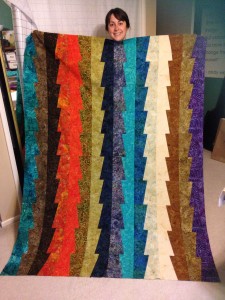 AnnMarie from our guild quilted it for me.  I've always admired her work which is also often modern with unique color palettes and straight line quilting.  For this project, I asked for some leaf designs to mimic the leaves in the pattern and to remind Katie of her Oregon roots.
Here's how both quilts looked the day the girls received them, and pics of the girls too!  So proud of their accomplishments and life path so far, and looking forward to seeing what next adventures are coming up for both of them.