A friend asked me to make a baby shower gift and another friend at work is pregnant, so it's the perfect opportunity to learn to make Taggie blankets.  Two colleagues at work said they're invaluable for their newborns…soft, easy to tuck in the carseat or attach to a stroller, babies love playing with or sucking on the textured ribbons.  So my friend and I went shopping at Joanns and found these cute ribbons along with matching minky and flannel fabrics to make the Taggie blankets.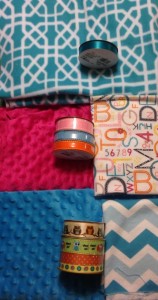 On to find inspiration/information/patterns online.  For this project, I used a few sources.
Minky fabric is tricky to sew because it's so stretchy.  This site gives great tips about sewing with Minky.
Taggie Blankets are popular so when you look on Etsy or Pinterest, you'll find lots of inspiration.  I used this tutorial which shows each step of the process.
First taggie is for a friend who is a speech language pathologist (hence the letters on the fabric).  She's having her first baby girl…congratulations! Second taggie is for a friend to take to a baby shower…and it's a boy!