Mountain View Middle School in Beaverton is hosting a Holiday Bazaar again this fall.  I'll have a booth there for both my So Sew Gifts and Demarle at Home products.  Hope to see you there!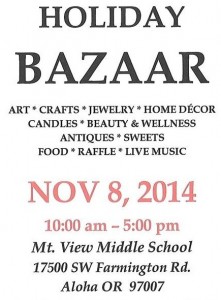 I'm getting ready to make more taggies and potholders to sell at the bazaar:
Update: It turned out that I didn't attend the bazaar this year.  Instead, I spent the day with Aaron and his family.  His lovely older sister Kira passed away Saturday night from the effects of cancer.  On Friday night, I made this blanket to take to her…it was much more meaningful than anything I made to sell at the bazaar.  Her sister Ambika had suggested making a blanket for her or others who were staying at the hospital, and I had fabric that was intended to make her headscarves plus matching blue fleece.  So I thoughtfully created a simple blanket and took it to her that morning, covering her up with love in my own way.