Coming soon!  An updated "shop" based on the products that I have made already, ready for sale.  Click on "order" to find the order form for special orders and check back here for updates.
—————————————————————————————————————-
Often times, people will place a special order so they can personalize a gift for someone: a Blazer blanket for a basketball fan, a fairy pillow for a little girl who loves sparkly pink things, a superhero cape for a 3 year old who believes he can fly, or pacman fabric on a wrist rest for a computer programmer.
I live in the Pacific Northwest and will use standard first class or priority mail to ship things easily to anywhere in the U.S.
If you see something you like but would like a different size or fabric, contact me so we can talk about pricing, fabric choices, and other specifications for your sewn gift.
My favorite thing is to make personalized gifts and learn new patterns. Recently I made a Holland Pouch bag, a bee themed tote from Patchwork and Poodles, and a super hero themed eye mask from the Made for Mermaids pattern.
Pillowcase: standard size, all cotton fabric, $10
Potholder: 8-10″ size, cotton and heat resistant batting, $5
Taggie blanket = appx 12″x12″, minky and flannel with multiple ribbon styles $10
Wine Gift Bag: made of cotton, wine related fabric or any other themed fabric, $15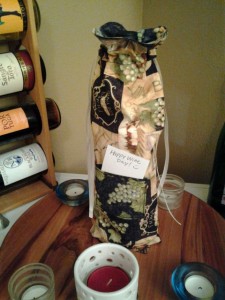 Aprons: $15-30 depending on style/fabric
Table runner: novelty cotton fabric, simple pattern without batting ($15) or more complicated quilted patterns (up to $30)