Inspiration
Everyone gets their inspiration from somewhere.  For me, it's usually from books (from the library or purchased for my growing collection), other people's projects (on blog posts or at quilt shows), or just from imagining something I want to make and looking for a similar pattern (usually these days on Pinterest).
Here are some of my favorite links / blogs / books in case you're interested in using similar resources as your inspiration.
Books from the library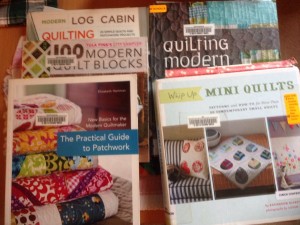 Amy Gibson's blog http://www.stitcherydickorydock.com/
Maureen Cracknell's blog http://maureencracknellhandmade.blogspot.com/
Sherri Lynn Wood's blog http://daintytime.net/ and especially her improvisational modern quilting techniques
Susan Albright's blog http://sewsusansew.blogspot.com/
Free pattern from Moda, made for cute s'more fabric
This looks like a fun place to find out about local quilt shops, and they're hosting a photo contest: http://www.quiltshopday.com/2014/01/08/2014-fan-photo-contest/
I just met another quilter at a garage sale (you never know when/where you'll meet someone with similar hobbies or interests!) and her blog site is http://www.seesawsew.com/.
There's even someone quilting in space! https://www.youtube.com/watch?v=N0c1CijmH7o
Another cute BOM that's free http://fatquartershop.blogspot.com/p/snapshots-quilt-along.html
Local Shops and Guild
Check out my local quilt shops and quilt guild.  Make sure to buy local when you can and consider joining your local guild.  The guild members and shop owners are often very supportive of new quilters and will offer tips on fabrics, colors, patterns, and sewing techniques!
Westside Quilt Guild (member since 12/13)  http://www.westsidequilters.org/
Sharon's Quilt Attic, Hillsboro, OR  http://www.sharonsatticquiltshop.com/
Quilter's Corner Store, Beaverton, OR  http://www.quilterscornerstore.com
Alderwood Quilts, Banks, OR  http://www.alderwoodquilts.com
Cool Cottons, Portland, OR http://www.coolcottons.biz/
Connecting Threads, Vancouver, WA http://www.connectingthreads.com/
Volunteer Opportunities
Coffee Creek Quilters, Wilsonville, OR http://coffeecreekquilters.org/
This is an organization that teaches quilting to women in prison.
Podcasts
I recently started listening to podcasts while driving to/from work.  There are a few that relate to creative business and/or sewing.
While She Naps http://whileshenaps.com/
http://www.elisejoy.com/podcast/
Sewing Tutorials
Want to learn to sew garments?  These sound like helpful courses from a fashion blogger. https://www.sewitacademy.com/
Cricut Resources
These websites are great places to find images and fonts for licensed commercial use or for personal use:
https://www.creativefabrica.com
http://svgstop.com/
https://scoutandrodesign.com/