I enjoy the opportunity to test a new pattern. There's an excitement about trying the pattern and helping the designer edit the instructions. Plus there's usually a community of other testers and the designer there to help answer questions or commiserate about the project. I'm thankful to have been selected as a tester for the Pivoting Quilt by Staci (@staciquilts on instagram). It's a bunch of half square triangles (HST) which take patience to trim to size, but allow for lots of great geometric shapes with a simple starting point.
For colors, the pattern shows a black/white quilt with colorful accent squares in an ombre rainbow effect. I love the geometric look and simple two block design. I decided to use my stash and wanted it to look like a garden of flowers, so I'm using a bright cheerful (almost lime) green background, white contrast, and colorful accent squares (all from scraps). It's going to be gifted to a project that my church group is leading. We're making throw size quilts to gift to residents moving into a new affordable housing center aimed at serving LGBTQ adults. I want the quilt to be cheerful and remind someone of a bright garden path.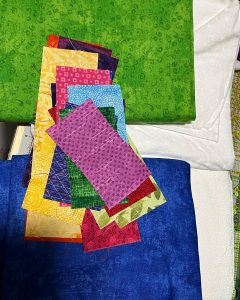 The Facebook group includes other quilters who are putting their own spin on the pattern and providing feedback too. It's a great way to get fresh ideas and share the process with others who are doing the same pattern.
(pics coming soon!)