Reflections on Sewing as a Hobby
Today at work, a colleague teased that since I went on a quilt shop hop for my birthday, I must have turned 80.  It's true, I haven't met too many 30somethings who sew quilts, but I have met many who do crafts like making scrapbooks or knitting or something similar.  Everyone spends their free time in their own way, but I think it's important to have a (or many) hobbies and/or fun activities that you enjoy either on your own or with friends.  Why don't more people my age participate in quilt shop hops?  Or more importantly, why do I enjoy it so much?
So…why So Sew?
For me, in the case of sewing, it can be both a solitary and a group activity.  I like doing projects with my mom where we take different parts of the project at work together, like one person choosing fabrics and cutting, the other sewing and ironing or whatever.  I also enjoy attending group sessions where lots of women come together to sew or do projects together.  The Piece and Quiet group that meets a few times a year always includes a DQ Blizzard run at some point in the evening and usually a lot of just talking and catching up in between projects.  Sewing Saturday as part of the Westside Quilt Guild is more focused on the actual sewing, but people are willing to help each other out with advice about techniques or color selection.  At home, I love listening to music while I sew and I can do it on my own but also show Aaron what I'm working on along the way.
Sewing quilts and other projects can be stress relieving.  It's difficult to worry or think too much about other things when you're focused on cutting the right amount of fabric or ironing a particular way to make the project come together just right.  Often I lose track of time as I become more focused on completing a piece of a project.  Sewing is one of those hobbies where there's a clear start and ending point, with a potentially winding road in between.  In my job, it feels like everything is a winding road that never ends, so it's nice to get to the finish of a project in my free time (although the perfectionist in me sometimes takes over and it's difficult to finish a project if I got sidetracked with something newer or more interesting or easier to accomplish).  Ultimately, those UFOs (unfinished objects/projects) will get completed and the non-yet-started projects that are just fabrics in my stash and ideas for patterns will become the newest So Sew product!
Creativity and problem solving are necessary skills, along with some math computations, in creating new patterns or adapting existing ones.  With the internet, you can find a tutorial or pattern or example of a finished project for just about anything, and then with some patience and thought, it can be adapted to fit the right size or function I'm hoping for in a project.  Recently my aunt asked for a duffle bag to hold her yoga gear, and it's fun to take her drawing and make it come to life…even if it's a little challenging since I am using a thicker fabric and putting in a zipper for the first time in a long while.  I enjoy the feeling of making someone a gift that's useful as well as looks nice and isn't something they could easily buy or make on their own.
Color, and design are the visually stimulating parts of sewing. It's so fun to find the right fabric for a project, based on what colors or themes you know the recipient might enjoy.  The hunt for the right fabric is part of the fun.  I've seen some quilts that I think would be boring for me to work on, such as only using 15 shades of off-white, or tedious like a quilt of thousands of hexagons.  They are beautiful to look at and admire the craftsmanship, but not something I would consider relaxing and/or fun to do.
As for visiting quilt stores and attending quilt shows, it's always such a blast of inspiration and creativity.  People really can do amazing things with fabric and thread!  I come away wondering what direction my sewing will take me…will I teach a class in a particular technique or pattern some day?  Will I be able to see the evolution and learning that is happening in my own sewing skills?  When I was younger, I tried to help my dad mend his socks, but used pink thread and sewed it so tightly shut, he couldn't get his foot in the sock anymore.  Since then, I still make mistakes, and laugh sometimes at the things that turn out upside down or not quite looking right like the leopard costume shorts that were a very strange shape until I sewed them a different (and correct) direction. In the end, I'm often happy with the result, proud of what I've created, and look forward to sharing it with others.  Here's my first entry into a quilt show: a basic nine patch using pre-cut squares purchased at a flea market in Hawaii.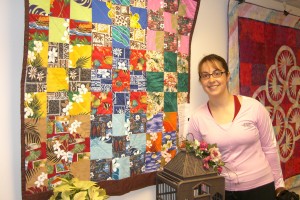 A funny story in my family began when dad wondered about this idea of quilting (which went something like this).  "So, you take a piece of fabric, cut it apart, and then sew it back together again?"  My reply?  "Well, it's like when you take pieces of wood, cut them apart, and then glue/nail/screw/attach them back together again."  He has made amazing furniture and other projects for me like a cedar chest, wall mirror (featuring the NW mountain range), and a wooden rack for my quilting ruler squares.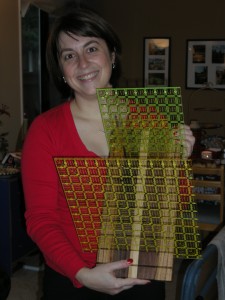 One of the great things about creating this blog style website, is the opportunity to share pictures of the process and products as well as descriptions of things along the way.  It'll be interesting as a diary of my So Sewing and a way to look back and reflect.  I still remember making a pink duffle bag in Home Economics class, a Mickey Mouse tshirt with mom, and neon pink soccer shorts.  Wonder what I'll make next?!