I've participated in shop hops before, but I usually happen upon them on accident or I can only visit a few shops on the listing.  Also, whenever I travel, I love exploring new shops and how there's such a variety of different shops.  Some are well established and others fairly new.  Some in old historic buildings and others in strip malls.  Many have a style of fabric or projects that their owners enjoy most which is reflected in what they sell such as civil war, modern, novelty, flannel, reproduction, or pre-cut fabric collections. In Cannon Beach, you can often find beach-themed fabric projects that wouldn't be available among the mountain-themed quilt patters outside of Denver.  Some shops sell machines and others specialize in classes, most have samples of projects for you to get inspired.  How a store displays their fabrics and sample quilts also really varies and can create an atmosphere of creativity or feeling cramped and overwhelmed in the space.  Usually for shop hops, I can't visit all the shops because of time involved to travel everywhere.  This time, the shops are within two general areas and I have a long weekend off work, so time to explore!  Also, it's my birthday soon, so I asked Aaron to be my shop hop chauffeur as part of my birthday weekend.  He even gave me a Groupon for $20 to spend at one of the shops…yea!
For the Snowflakes and Stitches Shop Hop, I first visited two shops after work.  Tea Time Calicos in Beaverton gave shop hoppers a great Fast Track Place Mat pattern including fabric.  A generous project provided by a shop with lots of fabric options crammed into a small space in a strip mall store.  The shopkeepers just let you browse and have machines also for sale, but not many sample quilts to see.
Second stop, Sharon's Quilt Attic in Hillsboro. Sharon and her friends who help out at the shop are always friendly and generous with ideas about color, pattern, and techniques to make your quilt project look great.  Steve does an amazing job on the long arm quilting machine and you can usually see some of his recently completed projects as inspiration. They have a wide range of fabrics, embroidery patters, and lots of sample quilts taught in classes.  For the shop hop, Sharon is providing an Antique Tile Block pattern and miniature pieces of fabric to give it a try. I also picked up a few random fat quarters that needed to come home to my stash!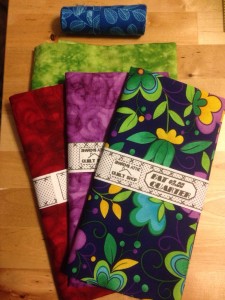 Then on Saturday, the big trip began…a loop to include six shops in one trip.  In McMinnville, Boersma's Sewing Center is being remodeled but it's open with lots of fabric available, including some reminiscent of Ohio.  Unfortunately, the staff weren't particularly friendly, but maybe they weren't expecting a younger quilter or were feeling busy getting ready for all the other shop hoppers. Their display of antique sewing machines was really cool!
Next stop was in Dallas at Grandma's Attic.  This was my favorite shop of the trip!  They had lots of different types of fabrics, great packages of fat quarters, sale items, and project ideas including a free block (which came with a piece of chocolate.)  My chauffeur sat in a rocking chair to read his book next to quilt books.  The staff were all incredibly friendly, explaining the shop hop, the sample quilts, and talking with all the customers.  I wish this shop was closer to my house so I could visit more often!
After lunch at my favorite Salem restaurant, Casa Baez, we went to Greenbaum's.  Usually I find lots of things there that I really like, but just browsed this time.  They have friendly staff and a standard poodle who wanders around to greet guests also. This time they seemed to have an especially good collection of modern fabrics and some great sample quilts.
North of Salem, in Keizer, we found two shops within a few blocks of each other.  The Cotton Patch is small but spacious with bright white fixtures and high ceilings.  They had creative displays of fat quarters and a few nice samples of finished quilts. The sample block was colorful and simple, shown as a quilt with some other block styles to finish the project.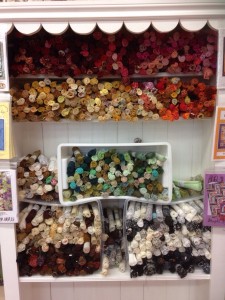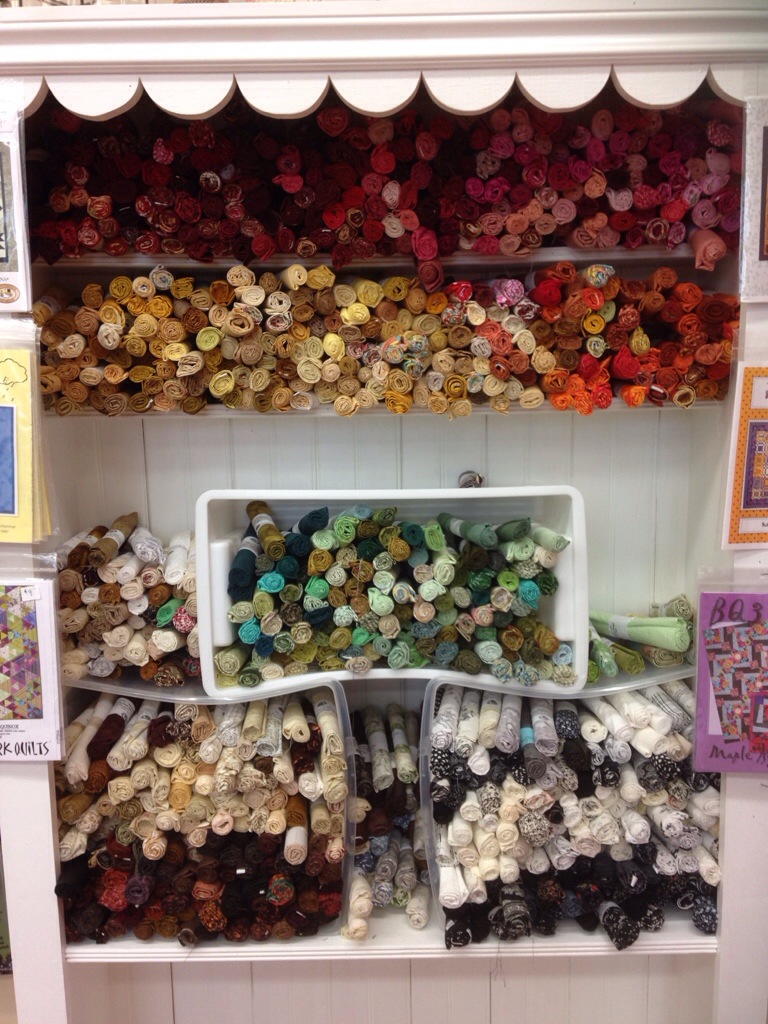 Just up the road at Bernina Stretch and Sew, you can get your sewing machine serviced, find a small variety of specialty fabrics for clothing, and browse a small selection of quilting cotton.  For the shop hop, they offer you a choice from few different free block patterns.  The best part in this store was an enthusiastic friendly clerk who was happy to have people stopping by on the shop hop and had come up with a game for people who purchase items.  Once I picked out my fabrics and was ready to pay, I was given a ball to toss over the counter onto a cardboard game area on the floor.  Whatever amount the ball fell onto was my percentage of sale on that purchase.  I luckily got 29%…what fun!  What will you get?
Last stop for the day was at A Common Thread in south Portland.  Again, an unlikely location in an industrial park type area, but many friendly staff helping customers, a class going on where you could practice quilting on their machines, and fabrics of a few different styles (canvas, modern cotton, batik, flannel) to inspire projects.  They even had a great selection of clearance ($5.99/yd) fabrics.  The shop hop block looked like a stained glass window and for $3 you could buy the other three blocks to fill out the pattern.  They also gave a free bag, convenient to collect all the other treasures from the day of shop hopping.
Made it out to Sandra's Stitches in Hillsboro.  Glad my map found it since it's tucked away in what looks like an apartment complex and happy I had the day off since their hours are a little more limited than some of the other nearby shops.
Looks can be deceiving though and right inside is a great supply of children's themed fabric and panels.  Again, not super friendly staff, but worth going there if you're looking for a particular novelty fabric or panel to make into a quick project (I got something for potholders).  They also have a great selection of coordinating fabrics (moda tone on tone).
At the start of this shop hop, I picked up my passport at the Quilter's Corner Store and I planned ahead to turn it in there when completed.  Today was the day…the end of my first complete shop hop!  Lots of great ideas at her shop, including a table runner idea that would work with any 12″ center block, shown here with the extra pieces from the free crocus block as part of the shop hop.
Thanks again to Deb (from QCS) for coordinating this event.  I'm looking forward already to the summer version, Sunshine and Stitches!  Speaking of sunshine, look what I found outside her shop…breaking through the Snowflakes Raindrops…a rainbow!