Friday was a snow day…got the day off work and the whole weekend at home, so I have time for sewing and cross country skiing in the neighborhood.
I've been wanting to make a lanyard for the name badge I wear at quilt guild meetings.  Picked up the findings at Joanns and some sewing themed fabric from my stash.  Here's the online tutorial I used: http://www.genxquilters.com/2013/03/10-minute-sewing-project-how-to-sew.html
I think it turned out great!  I guess I could have figured out a way to make it adjustable, but it works as something simple for now.  Can I make one for you? Check out the Shop page for more details.
Here's the view outside my window above the sewing table this afternoon.  So peaceful!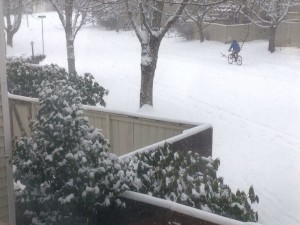 Happy February Sewing everyone!