This fall, we moved into a new home, and it's been so exciting to unpack all my craft/sewing supplies into a new space.  There's cabinets for candles, finished quilts, areas to hang design boards, and baskets of in-progress projects.  Half of the master walk-in closet is full already of fabric, ready for future projects.
This display includes a small sewing machine that my mom gave me from Grandma's house.  The needle moves up and down but would need a new bobbin and repairs to be actually used.  It's nice to have a place to show some of my sewing related trinkets.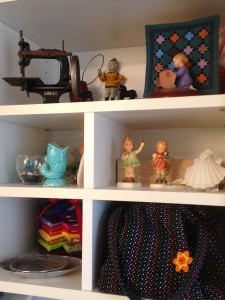 This display includes two of my first quilt projects. My mom tells a story that when I was three, we lived in Eugene and she sewed little girl clothes for me and for resale in a local shop.  While she worked on them, she gave me scraps to play with and eventually to learn to sew myself.  She kept one of the first pieces (on the left) and framed it for me to hang in my sewing room.  I found the other piece (on the right) and it too deserves a place on the wall.  The basket holds some other in progress ideas/fabric for projects to make for baby.