A colleague at work purchased 12 yards of fabric from Ghana and wondered if I could make it into a duvet cover for her.  "Sure!  I'll give it a try!"
Step 1: Fabric. She got the fabric from a family member who lives in Ghana and has this blog of handmade items. http://amaamina.wordpress.com/.  It was up to me to figure out how to wash/iron the indigo fabric, so I found directions on some fabric distributor websites. I also realized we didn't have enough to do the whole thing in the Ghana fabric, so got a matching dark blue solid at Joann's for the back of the duvet cover.
Step 2: How to Make a Duvet Cover.  The internet is amazing, truly.  Tutorials are helpful in showing the steps to make something new, so with a short lesson on some new techniques (learned to make a french seam so it looks really nice and finished on every side), I was ready to begin. http://www.designsponge.com/2010/03/sewing-101-making-a-duvet-cover.html
Step 3: Make Space.  If I do this again, I need to find a bigger space to lay out the fabric to cut evenly.  My living room just wasn't quite as big as a queen duvet cover.  🙂  This picture doesn't show the blue color, but it really turned out looking nice, with snaps as closures.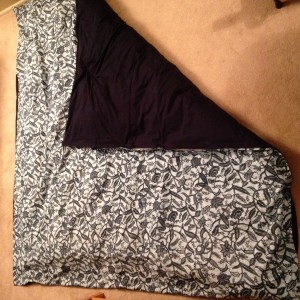 Step 4: Dog Cover.  After the duvet cover was finished, she asked for a matching sheet sized piece of the Ghana fabric to be made into a layer on top of the duvet so her two big dogs can lay on the bed but not get their hair all over the actual duvet cover.  Great idea since it'll be easier to clean and still look really nice on the bed…plus the dogs will be happy to be still allowed on the bed sometimes!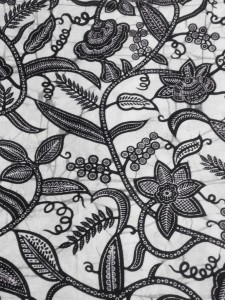 Thanks so much, Amy, for encouraging me to try a new experience, for your patience in it getting completed over the course of many months, and for the payment and "tip" of a gift certificate to another great fabric store, Cool Cottons in SE Portland, OR. http://www.coolcottons.biz/